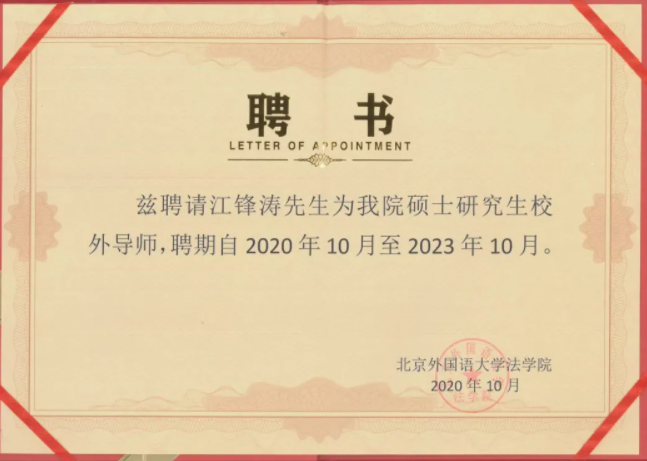 Mr. Jiang Fengtao and Mr. Zhong Wen are listed as LLM tutor for Beijing Foreign Studies University, starting from Oct 2020 to Oct 2023.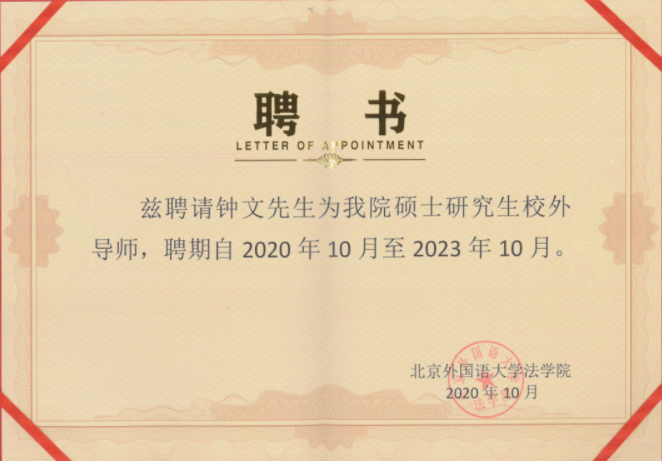 Beijing Foreign Studies University is located on North West Third Ring Road, Haidian District, Beijing. It is directly affiliated to the Ministry of Education as the first batch of "211 Project" universities, the "985" superior discipline innovation platform universities, and the first batch of "double first-class" construction universities. Among the alumni who graduated from Beijing Foreign Studies University, more than 500 have successively served as ambassadors abroad and more than 2,000 have served as counsellors. This has earned the school the reputation of "the cradle of diplomats of the Republic". Beijing Foreign Studies University has been approved by the Ministry of Education to open 101 foreign languages. Relying on this unique advantage in the country and closely combining the needs of national strategic development, Beijing Foreign Law School is committed to cultivating "foreign, special, proficient, and proficient" compound foreign-related legal talents.
In the past 10 years since its establishment, Hengdu always followed the basic principles of realizing and maintaining the maximum benefits of clients, and has developed into a large-scale integrated company with five core business areas: capital markets, mergers and acquisitions, intellectual property, commercial litigation and criminal litigation. Hengdu has nearly 50 business areas and is capable of providing comprehensive business solutions with unique advantages.

With in-depth professional knowledge and extensive network in the core market, Hengdu has provided professional legal services for dozens of companies with a market value of more than 100 billion yuan, including:

Sinopec, PetroChina, China Mobile, China Telecom, China Construction Bank, Minsheng Bank, China Securities, China Shenhua, Huawei, Google, Tencent, Baidu, Netease, 360, BYD, Great Wall Motor, Midea, BOE, New Hope , Weichai Power, New Oriental, Mango Super Media, Nongfu Spring, Tsingtao Brewery, Yili, Haitian Flavor, China Resources Land, Country Garden, Poly Real Estate, Vanke, etc.
Most recently, Hengdu was successfully selected as one of the top 50 Chinese law firms in terms of revenue and per capita income, ranking 38th and 13th respectively; and won the 2020 APAC Insider "China "Best fast-growing law firm" award. Mr. Jiang Fengtao, the founder of Hengdu, was elected as a member of the Youth Entrepreneur Committee of the All-China Federation of Industry and Commerce; Director Xi Chao of Nanjing office was elected as the chairman of Qinhuai Branch of Nanjing Lawyers Association; Mr. Zhong Wen, Ms. Zhang Yinying, and Ms. Lian Fei were elected to Beijing Lawyers Association's foreign affairs Lawyer talent pool. In addition, Hengdu Law Firm and Hebei Institute of Finance reached a strategic cooperation in practice base.

Through cooperation with BFSU, Hengdu looks forward to cultivating legal talents in the new eras who are proficient in multiple languages with solid legal foundation and familiar with international rules.